went to the brewery artwalk on sunday. saw some old friends, nursed a gin & tonic in the warm sun and did mucho people watching... good times.
like my sweater? i've only shredded one arm so far... so many projects goin right now...
wearing slip-goodwill, sweater-secondhand trade crossroads, beanie-handmade by my momma(custom order here), jeffrey campbell litas, bag-thrift store in san diego, necklace-custom ax & apple, rayban wayfarer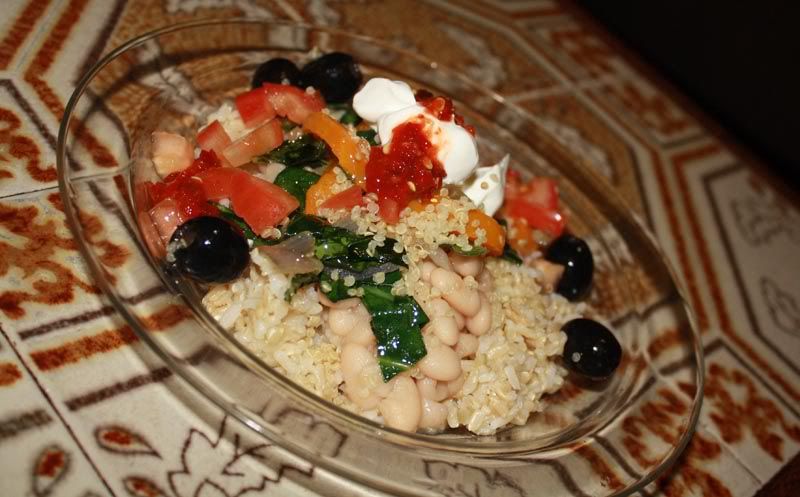 brown rice, white northern beans, collard greens, tomatoes, orange bell pepper, red onion, vegan sour cream or regular sour cream, chili paste, olives & a sprinkle of quinoa for texture
i try to eat healthy, but sometimes i don't want to spend so much time in the kitchen. so lately i've been making a pot of rice/quinoa and a pot of beans(any kind, i've been rotating) in the beginning of the week and keeping them in the fridge for quick, easy and yummy homemade meals. i find the easiest way to do the beans is in a crock pot because after you get it started it doesn't need to be babysat and you don't need to soak them. i use one small bag of beans, wash them and add water till it is a couple inches over the beans. after an hour i add about a quarter/half an onion, a bunch of fresh garlic and sea salt (i love pink himilayan) to taste. remember to add water as you go because it evaporates. it only takes a couple of hours and lasts all week. the rice and quinoa (i rotate between the two) takes about 20-30 minutes and is perfect with the beans. it will also last all week. make sure you cover it well so it doesn't dry out. all you have to do is sauteed any veggies you like and throw it on top with condiments/toppings of your choice (olives, cilantro, peperoncinis, sour cream and hot sauce are my favorites). you can also put all the same ingredients in a burrito to mix it up. yum fiesta bowls!