walking around the block in south pasadena... got some coffee at busters, did a jig in the alley behind the antique shops and posed an ancient pose in front of a big door.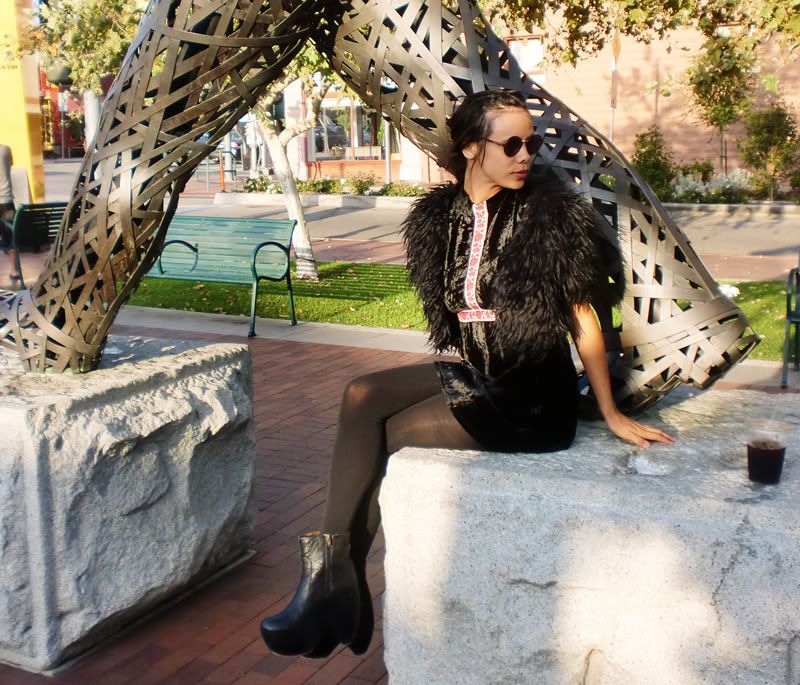 ~my favorite food is sushi, burritos and noodlesnoodlesnoodles
~i'm addicted to tapatio
~i've been using vasoline as lip balm since i was little... my lips were so badly chapped in the 4th grade that it looked like the top of my lips were right under my nostrils and the bottom was near my chin (and yes this is documented in a school photo) pretty much everybody stopped talking to me towards the end of grade school because of stuff like this... then i met the punks/goths/other rejects in high school :) but i didn't really fit in with them either because i got good grades and was in the dance team
~i walk around on my tippy toes at home
~i love vampires. this isn't a new thing. i've been reading vampire novels since the 4th grade. when every other grrl was dreaming about being a princess or popular, i was hoping a vampire would come through my window and make me a creature of the night and we would travel the world together forever...
~i have crushes on characters as opposed to stars... like albus dumbledore, gandalf, corbin dallas, edward scissorhands, vampire bill, leeloo, wolverine.. and the list goes on and on
~i've cried after finishing a book just because i didn't want to leave that world
~i believe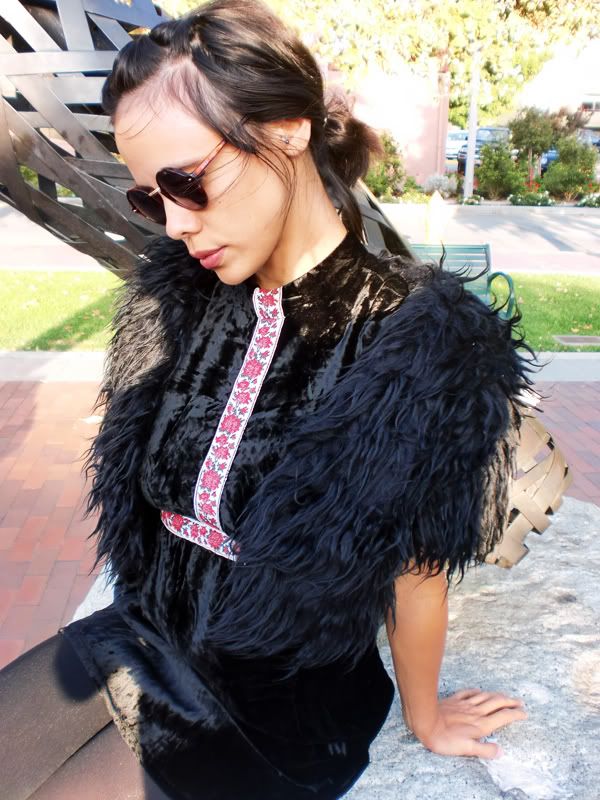 i bought this fuzzy thing at zara last spring and haven't been able to wear it until recently because of the weather. i really love these easy steps into fall. it's fun to feel the breeze moving differently around you during your evening walks...
i think this 'vest' is supposed to be some kind of faux fur, but it reminds me more of a 70s shag carpet or a muppet... i love it. it was actually the first thing i bought at zara and the only thing until yesterday. i got another fuzzy thing, but totally different than this. i will just have to show you. i'm kinda loving lots of the fall stuff at zara right now... this is no bueno for the traveling fund!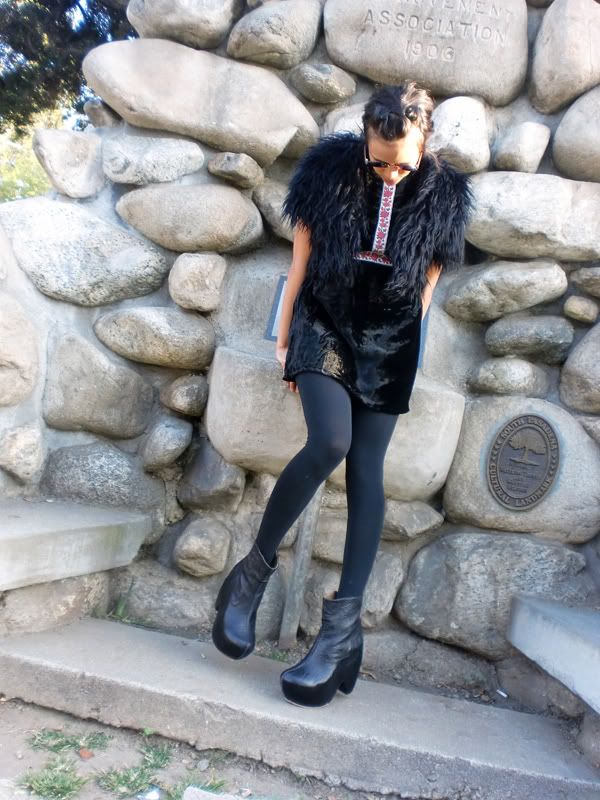 i watched the yeah yeah yeahs tell me what rockers to swallow concert on dvd yesterday... karen o has some crazy mad energy. i ♥ netflix.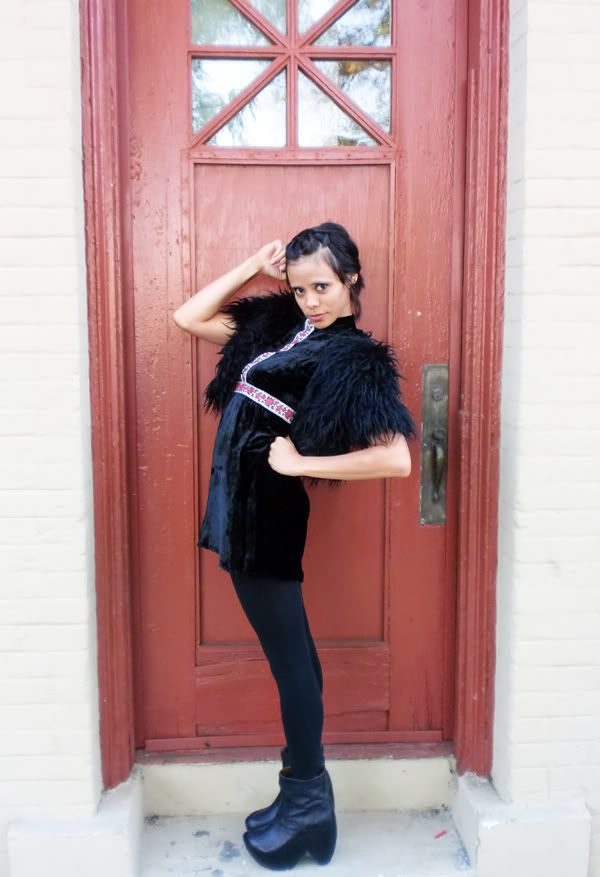 my mom has old photos of me doing this pose when i was 5 and 6 and 7 and well... some things never change. i am still a little grrl. you know that song 'girl you'll be woman soon'? it has always sounded like neil was personally singing to me...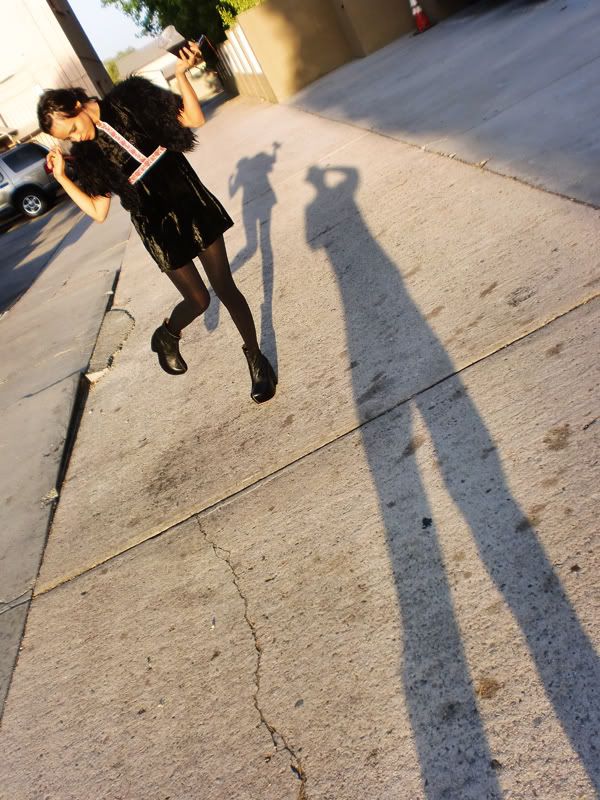 this photo really says worlds about me. i am doing some variation of this in between shots all the time...

vintage dress-goodwill, fuzzy thing-zara, tights-uo, gee wa wa fatales- lorisshoes.com, vintage armani sunnies- old focals